Gynecologic Surgery
The development of minimally invasive surgical techniques has aided patients in several ways. Laparoscopic surgeries are those performed within the pelvic or abdominal cavity. Using the minimally invasive laparoscopic surgical technique means smaller scars and a shorter recovery period. This type of procedure incorporates a telescopic lens, which is attached to a video camera. Using advanced technology, your physician can precisely perform the given procedure viewing the abdomen on a large monitor.
Laparoscopic surgery is used to remove ovarian cysts, treat endometriosis, remove pelvic adhesions and evaluate and treat other causes of pelvic pain.
The advantages of minimally invasive laparoscopic surgery include:
Small incisions
Reduced blood loss
Minimal exposure to external contaminants
Lowered risk of infection
Faster, more comfortable recovery with minimal scarring
Reduced time in the hospital
Lower overall cost
Laparoscopy and its revolutionary minimally invasive contribution to Gynecological Surgery.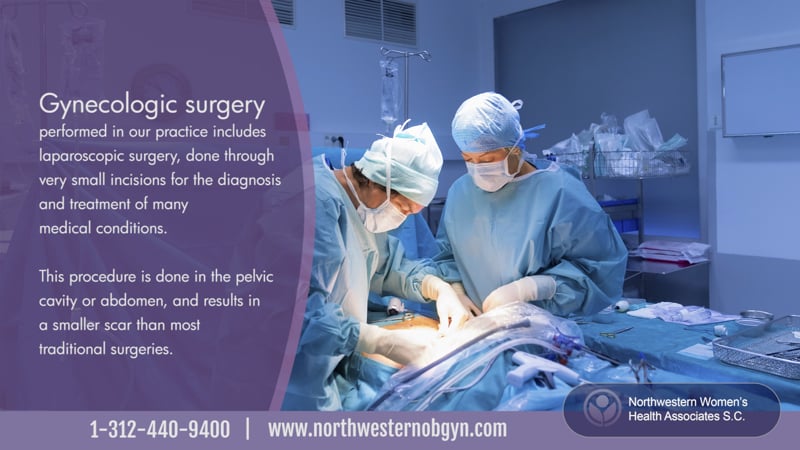 With much less downtime and reduced cosmetic after effects, Laparoscopic surgery is a resourceful method to examine and diagnose reproductive health issues and can be used in amalgamation with other latest technologies resulting in lower risk, pain and gives patients the opportunity to avoid coming into contact with unnecessary stress and complications.
Video Transcript
Minimally Invasive Gynecological Surgery – Northwestern Women's Health Associates is proud to provide patients in and around the area of Chicago, IL with minimally invasive gynecologic surgery. Gynecologic surgery performed in our practice includes laparoscopic surgery for the diagnosis and treatment of many medical conditions. This procedure is done in the pelvic cavity or abdomen, and results in a smaller scar than most traditional surgeries. Additionally our patients recover much faster and experience shorter healing times. Other benefits of minimally invasive gynecologic surgery such as laparoscopic procedures include lower cost, reduced exposure to contaminants, less blood loss, smaller incisions, reduced risk of infections, and quicker recoveries. Procedures performed in this manner include endometriosis removal, ovarian cyst removal, hysterectomy, and the removal of polyps or fibroids in the uterus. Dr. Stanley Friedell with 28 years of surgical experience also integrates robotic hysterectomies with the use of the da Vinci® Si™ Surgical System, which also reduces discomfort and healing time when compared to more traditional means. Another option for women is that of the laparoscopic hysterectomy. This is a procedure that is a minimally invasive way of removing the uterus through with an incision in the belly button with two other very small incisions. Dr. Stanley Friedell and Dr. Marc Feldstein perform laparoscopic hysterectomy at Northwestern Women's Health Associates. At Northwestern Women's Health Associates, your health is our top priority. Contact us today for more information on minimally invasive gynecologic surgery by calling our practice at (312) 440 9400.
Dr. Friedell is a Chicago physician certified in the use of the da Vinci® Xi™ Surgical System. The da Vinci® robot provides 10x magnification of the operative field as well as an extremely high level of dexterity. These two characteristics alone make the da Vinci® Xi™ Surgical System ideal for the performance of laparoscopic hysterectomies. Patients whose surgery is performed using this system tend to recover more quickly and experience less discomfort than those who choose open surgery for hysterectomy.
Laparoscopic Hysterectomy using conventional laparoscopy
These patients also recover more quickly and experience less discomfort than open surgery
Hysterectomy
A hysterectomy may remove a portion of or the entire uterus. There are three hysterectomy procedures typically performed. These include:
Partial hysterectomy, which removes the upper part of the uterus, but leaves the cervix.
Total hysterectomy, removes both the uterus and the cervix. This is the most common type of hysterectomy performed.
Radical hysterectomy removes the uterus, cervix and some surrounding tissues, and the uppermost portion of the vagina. This type of hysterectomy is most commonly performed by a gynecologic oncologist in the treatment of cancer.
Aside from cancer, a hysterectomy may be recommended to treat pelvic prolapse, fibroid tumors, heavy bleeding, or endometriosis.
Myomectomy

This is the removal of fibroids which can be causing abnormal bleeding or pain. It can be done hysteroscopically, as an open procedure or sometimes laparoscopically.
TVT incontinence surgery

Urinary incontinence can be a very distressing problem for a woman to live with. We understand the emotional and social impact of urinary incontinence, and provide a surgical solution that gets results. TVT is tension-free vaginal tape. This procedure, which places a narrow band of tape beneath the urethra, is performed to lift and support a sagging urethra or bladder so that it sits properly within the pelvis. Once adequately supported, the urethra is able to close, as nature intended, and urine cannot leak from the bladder.

This procedure can often be performed using minimally invasive surgery, which means there are smaller incisions, reduced bleeding and discomfort, and a shortened hospitalization and recovery period. Most patients are able to return home the day of their procedure.

The team at Northwestern Women's Health Associates has the extensive educational background, training, and experience to help you navigate the various aspects of women's health.

Contact us at 1-312-440-9400 to schedule your visit.
At Northwestern Women's Health Associates
your unique needs are our highest priority.
Making use of advanced technology and staying on the cutting edge of women's healthcare, our team of experts is dedicated to providing every woman who visits our office with the highest level of sensitive, specialized care. At our office in Chicago, you can receive exceptional obstetrics and gynecology (OBGYN) services from any one of our highly skilled doctors, including
Stanley Friedell, MD
;
Marc Feldstein, MD
;
Abbie Roth, MD
;
Regina Belmonte, MD
;
Sharon Wise, MD
;
Julianne Morton, MD
;
Whitney Dunn, MD
;
Aleena Lakhanpal, MD
; and
Margaret Kistner, MD
. With their combined expertise, this team of board-certified doctors at Northwestern Women's Health Associates makes it possible for you to receive efficient, personalized care from the preeminent women's hospital in the Midwest.
Success Stories
Jen Weitz "Wonderful experience with Dr. Julianne Morton @ NW Women's Associates. I've recommended her to countless girlfriends. Being a first time mom, I went through many physical symptoms and emotions that accompany pregnancy. She is extremely thorough, patient, and has wonderful bedside manner. I felt confident going into delivery with Dr. Morton taking the lead with my delivery. Wonderful practice!"

VIA

Melissa P. "Dr. Morton is absolutely amazing. She cared for me throughout my first pregnancy and we found her to be kind and caring and straightforward - could not have asked for a better experience! Dr. Dunn ended up being on call during my delivery and she was great as well. I have always found the nurses and office staff to be friendly and on top of things - very happy with the practice!"

VIA

Jeanne S. "I had to have a laproscopic hysterectomy done by Dr. Friedell and all went fabulously! They were very detailed in pre-op which made a lot of difference. I came out of surgery feeling great and post op I was back to work within two weeks. Everyone at the practice, at the hospital, at pre-op were incredible."

VIA

Kelly C. "Dr.Julianne Morton is amazing! I was recommended by a friend when I moved to the Chicago area and was looking for an OB-GYN. I have seen her for two years in Chicago for my yearly exam. She is beyond kind and great at what she does. Dr.Morton makes you feel very comfortable and is such an incredible doctor! I have recommended her to all of my friends as well who need a new gyno/OB-GYN."

VIA